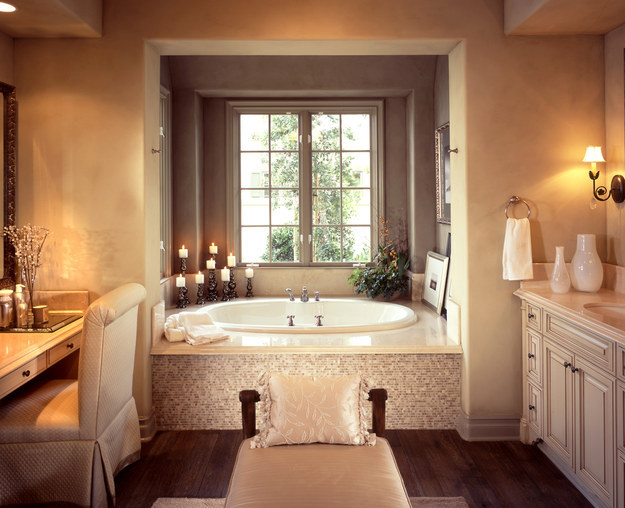 When it's time to pull out all the stops and turn your master bathroom into that luxury spa experience you've always dreamed of, then there are just certain things you simply must incorporate into your renovation. We took a look around the net to find those elements that turn your master bathroom into your master sanctuary and found our pick for the top four elements that will give you the master bathroom of your ultimate dreams. Check out these articles below that describe each one.
#1: Heated Flooring
There's nothing quite as luxurious, when you live in a cold climate, as heated flooring in your master bathroom. This article by Tiffany Carboni for houzz.com shows you all the benefits, as well as things to watch out for, when you're adding this element to your next remodel. Whether you choose electric radiant heat or hydronic heating for your heated flooring, there are pros and cons to each and you'll need to talk with your contractor to see which option will be best for your specific situation. The article goes into great detail on what is required when you're installing electrical radiant heated floors. Get all the great information by reading the full article here.
#2: Jetted Tub
If you've ever been in a hot tub, with all of those fabulous jets massaging you while you soak, then it's no surprise we list the jetted tub, on our must have luxury item list, for your master bathroom. In this article posted on Whirpoolbathtubs.com, they explain all of the health benefits of having one of these wonderful creations at your beck and call all the time. Aside from the absolute relaxation you can achieve at the end of a long day, there are also other benefits you may not have considered including increased circulation and pain relief. You'll want to learn more about all the health benefits by reading the full article here.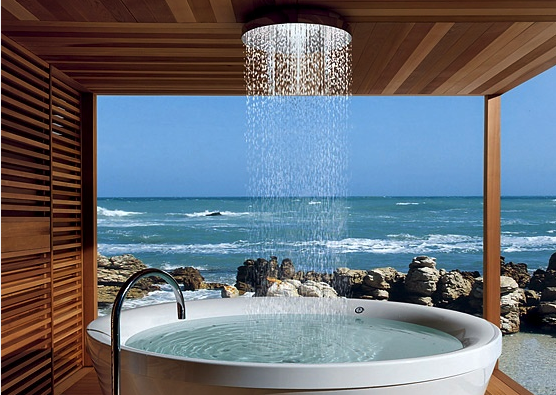 #3: Waterfall Shower Head
Waterfall shower heads are all the rage these days not just because they look cool, but also because they feel so good when you're under them. In this article, posted on Faucetshomedecoration.blogspot.com, we get some gorgeous photographic options and some insight into the benefit of using a waterfall shower head versus a standard shower head. The waterfall shower head covers a larger area than most standard shower heads and the water comes out in a gentler and more relaxing way than a standard shower head. Bring this luxury to your next master bathroom remodel and get all the details on why that will be wonderful by reading the full article here.

#4: Bamboo Towels
You may think that Egyptian cotton towels are the ultimate in luxury, but that's only because you haven't tried these amazing bamboo towels yet. The incredibly lush towels you'll find on Bambooblisssheets.com are made from 100% bamboo yarn that is naturally hypoallergenic, odor and mildew resistant, anti-microbial, and more absorbent than any other towel you've ever used. Elegant looking, these luxurious towels become even softer over time, no matter how often you use and wash them. Get the ultimate in luxury towels for your new master bathroom by visiting bambooblisssheets.com.