On this Veteran's Day we would like to say thank you to all of our men and women in uniform, past and present.
We support their efforts and thought we might point out a few organizations that do very good work to help them with much needed assistance when unfortunately they have nowhere else to turn. There are many great organizations doing great things for veterans. Here are a few you may not know about that we hope you will support.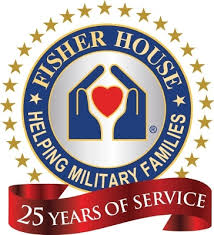 Fisher House Foundation is best known for a network of comfort homes where military and veterans' families can stay at no cost while a loved one is receiving treatment.
These homes are located at major military and VA medical centers nationwide, close to the medical center or hospital they serve. Fisher Houses have up to 21 suites, with private bedrooms and baths. Families share a common kitchen, laundry facilities, a warm dining room and an inviting living room. Fisher House Foundation ensures that there is never a lodging fee. Since inception, the program has saved military and veterans' families an estimated $282 million in out of pocket costs for lodging and transportation.
Fisher House Foundation also operates the Hero Miles program, using donated frequent flyer miles to bring family members to the bedside of injured service members as well as the Hotels for Heroes program using donated hotel points to allow family members to stay at hotels near medical centers without charge. The Foundation also manages a grant program that supports other military charities and scholarship funds for military children, spouses and children of fallen and disabled veterans.

Marine Corps Scholarship Foundation
Since 1962, the Marine Corps Scholarship Foundation has been Honoring Marines by Educating Their Children. The Nation's oldest and largest provider of need-based scholarships to military children, the Scholarship Foundation pays particular attention to those students whose parent has been killed or wounded in combat or has demonstrated financial need.
Our Heroes Tribute Scholarship Programs for Children of the Fallen and Wounded provide special scholarship support—up to $40,000 over 4 years—to the children of Marines and Navy Corpsmen killed or injured in combat. Other scholarship initiatives honor and memorialize Marines and Navy Corpsmen and bring students together for the opportunity to connect with mentors and each other.
Donations to the Marine Corps Scholarship Foundation honor America's Marines, Navy Corpsmen, and the sacrifices of their families. Your donation can pay tribute to someone especially important to you – just designate your gift 'In Honor of' or 'In Memory of' of an individual or organization below. You can also designate your donation to honor wounded or fallen Marines through our Heroes Tribute Scholarship Program.
Please Note: The Marine Corps Scholarship Foundation maintains more than 600 individual named scholarship funds established in honor of outstanding Marines and patriotic supporters. You can learn more about the Marines we honor and make donations to those funds by visiting that section of our website.
Not all named funds are listed on this page - to contribute to funds not listed online please contact us directly.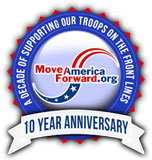 Is proud to offer Carepackages for our troops for the troops overseas. Sponsor a single soldier or a whole battalion of troops and send a package full of support and treats to match the season. Thanksgiving care packages come with all the comforts that remind the troops of home during the holidays.
Imagine how tough it is for these brave troops to be away from their families during Thanksgiving and Christmas. The holidays can be a lonely time when you're thousands of miles away from home, but a care package from Move America Forward contains the perfect mix of items to bring that holiday cheer right to the troops who deserve it most.
MAF Thanksgiving Holiday Packs come specially equipped with seasonal Pumpkin Spice coffee with a rich aroma that recalls spending a cold winter's day indoors by the fire, surrounded by friends and family. Candy corn is included as one of the most recognizable traditional fall treats and holiday peppermint Oreos round out this set of holiday sweets. Finally there's hot chocolate, the perfect holiday drink to enjoy after trudging around in the snowy mountains of Eastern Afghanistan.
Of course, in addition to these festive items, MAF care packages always include the familiar items like beef jerky, Gatorade, lip balm, deodorant, and Hoo-Ahhs field towels for a refreshing field shower. Most importantly every care package comes with a note of support written by you!
Send some holiday cheer to our troops overseas.