Posted by Dreamweave Bamboo Bliss on Sep 14, 2023
FALL is the perfect time to update your sheets and bedding!
As Autumn colors change and cooler temperatures approach, Fall is the perfect time to give your bedroom a makeover that will add the warmth of Autumn colors to your bedroom decor. Just as we change our clothing weights and styles as the seasons change, we should do the same with our bedding. Here are some simple tips to make your bedroom a look and feel warm and keep you comfy all season long.
---
FALL into Bamboo Bliss
50% OFF sitewide
+ 20% MORE OFF just for you!
USE CODE: FALL20
---
#1: Bundle Up Your Bedding for Fall/Winter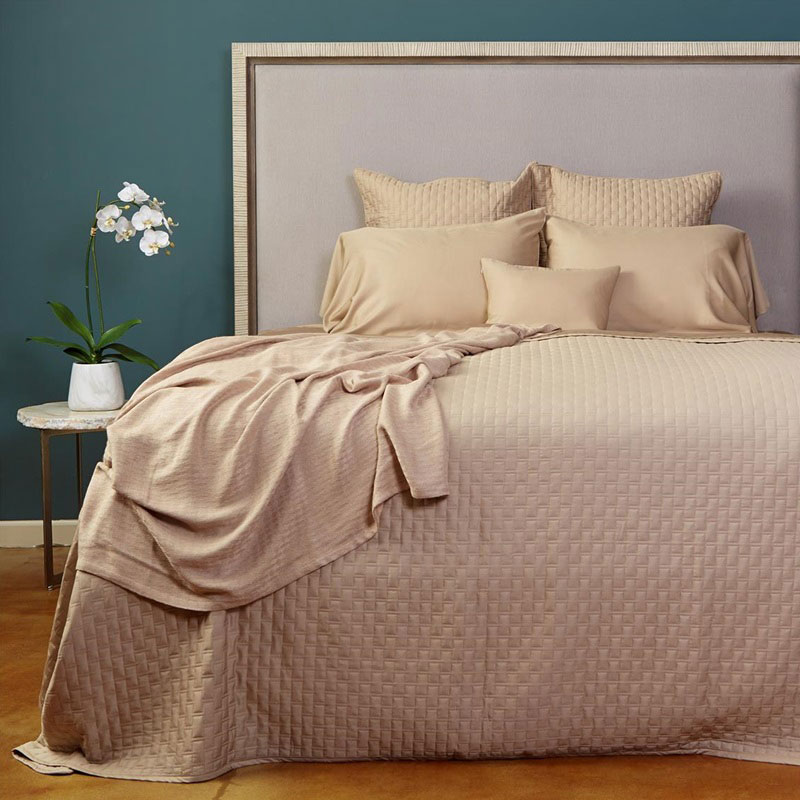 Just like with clothing, layering provides versatility as the temperature changes. Using several layers will allow you to utilize more layers on cooler nights and shed layers on warmer nights. Sheets are the foundation, and no matter what the season a blanket and/or coverlet is a must. We recommend layering sheets, a lightweight blanket, a coverlet, and fluffy and warm duvet at the foot of your bed. Layering will keep you ready for temperature fluctuations, so you are sure to stay comfortable throughout the night.
SHOP COVERLETS & DUVET COVERS >
#2: Sheets are the Foundation.
It all starts with sheets. Our bed sheets are what our body comes in contact with as we sleep. So sheets are the foundation of your bedding and your sleep comfort. So it's important to start with natural fiber fabric sheets and bedding that is temperature regulating to keep you comfy no matter what the season. Amazingly soft, thermal regulating Bamboo and Eucalyptus fabrics are the perfect choice year round. These incredible "smart" fabrics/fibers expand and contract to adjust to the temperature, making the fabric cool and breathable in the summer and contracting to keep you warm in the winter.
Bamboo Bliss has the best quality and selection of eco-luxury organic bedding. All of our bedding is made from 100% Bamboo and Eucalyptus, which is known for it's incredible breathability and ability to wick moisture away from your body. Perfect for keeping you comfortable and dry every day of the year.
SHOP EUCALYPTUS & BAMBOO SHEETS >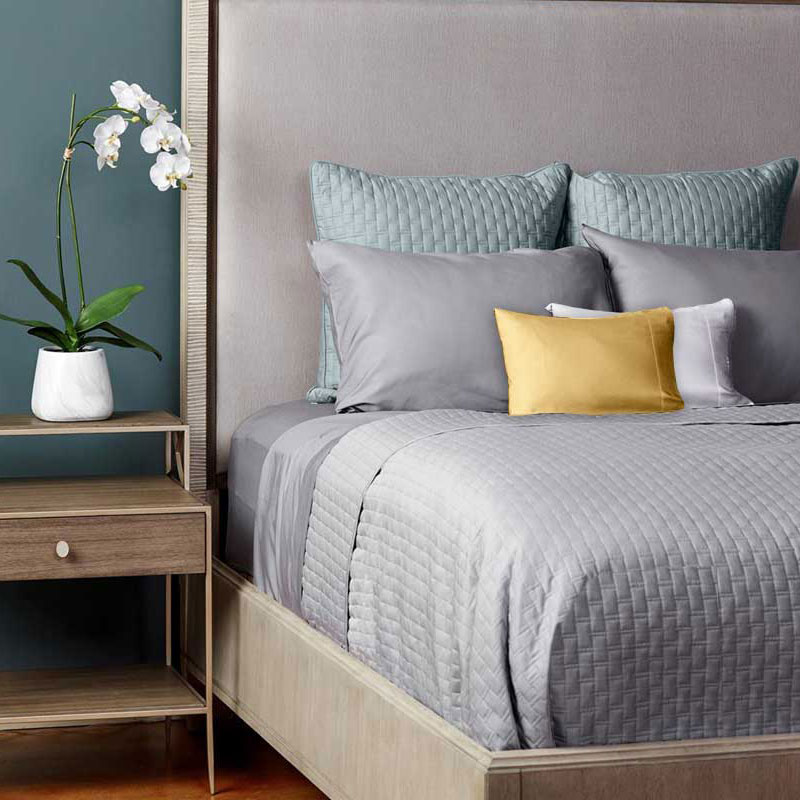 #3: Coverlets. The staple layer for ALL seasons.
This is one bedding accessory you will never put away, regardless of the season. Coverlets are the most versatile layer for all seasons. The lightweight quilting makes it perfect for warmer months and the foundation to build upon when layering your bedding for fall and winter. Top it off with a heavier comforter or duvet and you are ready for the cooler temperatures in fall and winter.
#4: Replace Summer Casual with Sophisticated Patterns and Neutral Tones.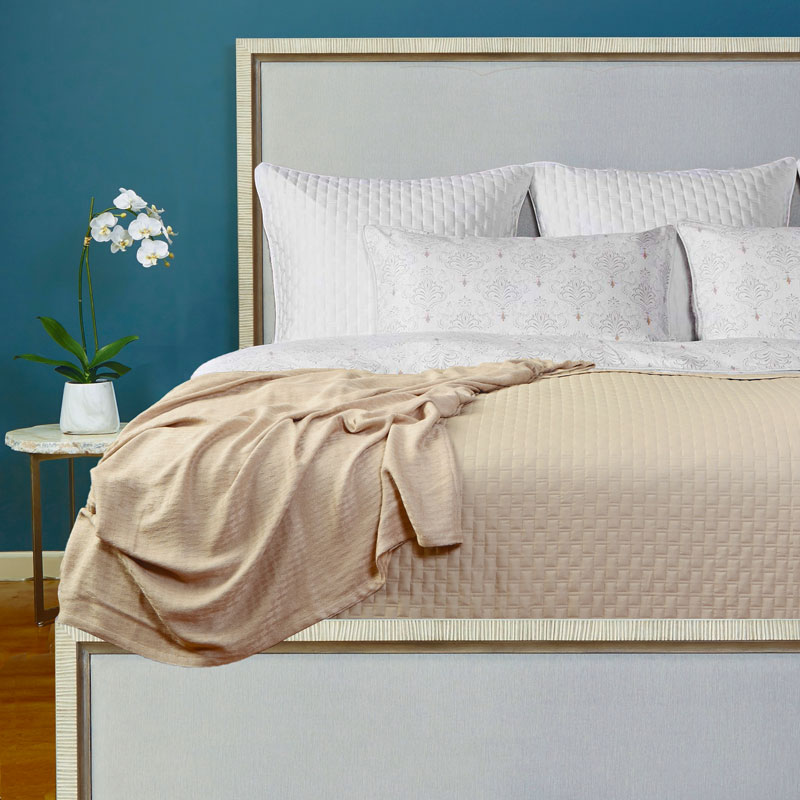 It's amazing what difference color and pattern can make. You can't go wrong with white no matter what season. But put away those bright summer colors and incorporate neutral tones. To give you bedroom a warm cozy feel. Just look at how we've created a fresh sophisticated look by just replacing a bright colored duvet cover with our New Classic Damask pattern duvet cover and accessorized with a new champagne beige coverlet and blanket. You could do the same with our New Platinum Deco Mod pattern to transform your bedroom to 5 Star Resort luxury.
TIP: If you have a bright colored duvet cover or comforter that you can't afford to replace, just fold it down and use it as an accent at the foot of your bed. Works great as a foot warmer and it's ready to use when needed on cooler nights. That way you can just replace your bright sheets with a neutral color and you've created a fresh fall look.
#5: Update Your Color Scheme and Accessorize for the Season.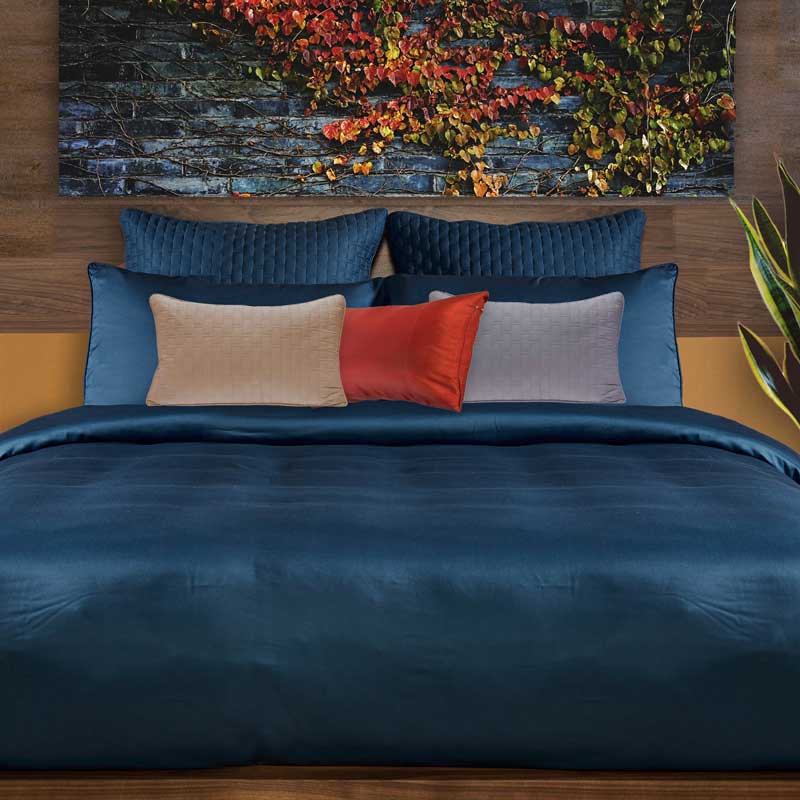 Replace your bright colored sheets and/or duvet cover with darker hues. Or introduce neutral colors to your existing color palette. You can combine any color with neutral tones like: khaki, beige, sage, mocha and grey, and this will tone down your color palette for fall and winter. Bamboo Bliss has an amazing variety of colors that will almost certainly work to enhance your existing decor.
Poofy pillows give your room a warm comfy feel. New pillowcases and a variety of throw pillows are a low cost, easy way to update your color scheme to warmer tones for the season. Plus our throw pillows provide great lumbar support. Use them on your bed, chairs, and sofas. Choose from a wide variety of pillowcases and shams, and our new quilted bamboo throw pillows to update your decor in any room.
Accessories can give your bedroom new life. Seasonal decor, throw pillows, and holiday accessories are a great way to give your bedroom a new look. Display new pictures and wall art as the seasons change to bring each season to life.
SHOP DUVET COVERS & COVERLETS >
SHOP EUCALYPTUS & BAMBOO SHEETS >
#6: DON'T FORGET THE JAMMIES!

Bamboutique has the ultimate in sleepwear. Now you can sleep and live in Bamboo Bliss!
Jammies are just as important to your sleep comfort as your bedding is. Our new line of Bamboo loungewear is the softest, most breathable, thermal regulating and comfortable fabric you will ever wear. Our Bamboo Lounge sleepwear is the perfect compliment to our sheets and bedding.
Live and lounge in the luxury of bamboo bliss. Style meets comfort with our new Bamboo Lounge, Bamboo Everyday, and Bamboo Active lines of apparel, featuring our new bamboo loungewear, activewear, and everyday wear. Now when you get out of bed you don't have to leave the comfort of bamboo behind. You can live in the comfort of Bamboo Bliss. So versatile, Bamboutique apparel is great whether you are working at home, lounging, sleeping, exercising and just everyday wear.
All made from 96% bamboo viscose and 4% spandex fibers to combine incredible health and environmental benefits with unbelievable comfort and luxury.
Soft, breathable, cool – The perfect fabric for sleep, lounging, yoga, working out, sports, and everyday wear.
ALL Made in the USA